For Patients
First step – consultation How to prepare for the surgery? How long is the recovery process? What is the best solution for my problem? What tests should I complete before the surgery? How much the surgery costs? These are some of the most frequently asked questions that will be answered during your consultation with our
Liposuction:
Liposuction is a fat removal procedure during which fat is removed from particular areas of the body, for example, stomach, hips, thighs, arms or neck.
Fat suction is not a weight correction method or an alternative to weight loss.
In what cases liposuction is suitable?
This procedure is suitable for people with normal or constant weight with body areas with fat tissue accumulations.
Fat cells multiply until puberty, and afterwards their number remains constant, but the size changes. Liposuction is the only way to remove billions of fat cells. After the removal of excess fat, a normal number of cells remain in the area, however, the fat cell size may increase due to weight increase, but it will remain proportional in all of the body – silhouette and shape will remain unchanged.
Most common liposuction areas for men – stomach, sides above the waist, chin area, breasts. Liposuction allows to correct scarring and body defects.
Procedure results become visible approximately after 1.5 months. Skin quality is important for a good liposuction result.
Specialists who provide service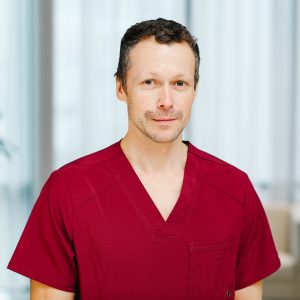 Plastic surgeon, microsurgeon
Plastic surgeon
Apply for a visit
Information to be provided at the time of collection of data of the data subject
Controller – Aesthetica SIA, registration No. 40203026926, Riga, Tālivalža iela 15, LV-1006
Purpose of data processing – processing of the appointment with the doctor
Personal data categories to be processed – name, surname, e-mail, contact phone
Legal basis of data processing – this application and Article 6 (b) and (f) of the GDPR.
Categories of personal data recipients – accordingly authorised employees of Aesthetica SIA
Aesthetica SIA has assigned the data protection offices, with whom you can contact datuspecialists@aesthetica.lv
You can find out about how we process your personal data in more detail in our privacy policy, which is published here Privacy Policy, or by writing to us to the e-mail datuspecialists@aesthetica.lv