For Patients
First step – consultation How to prepare for the surgery? How long is the recovery process? What is the best solution for my problem? What tests should I complete before the surgery? How much the surgery costs? These are some of the most frequently asked questions that will be answered during your consultation with our
Facial reanimation after facial nerve damage
There are a number of illnesses and various other causes, such as injuries, which can result in damage to the facial nerve. The damage to the facial nerve can be partial or total. Following the nerve injury, a patient develops a partial or total facial mimic deficit with subsequent deterioration in the quality of life. For example, a hanging corner of the mouth and saliva incontinence, or the eye tears because the eyelids do not close due to the damaged nerve.
Facial reconstruction surgery is performed under general anaesthesia. During the procedure, depending on the individual case, transposition of the nerve or static fixation of non-functional structures is performed, followed by stretching of soft tissues and skin and symmetrization of the whole face.
There are cases when the operation needs to be performed in several stages. After the surgery you should spend a day in the hospital. Further treatment is carried out on an outpatient basis, bandages and stitches need to be removed. Facial rehabilitation is carried out under the supervision of a physiotherapist.
Post-operative, post-injury, post-freezing and post-burn scar revision
The origin, localization and resulting functional and aesthetic defects of scar tissue can vary widely. Skin lesions tend to be in places that aren't covered with clothing or may cause movement restriction in one of the limbs, thereby impairing quality of life. They can be aesthetically disturbing (scars may be thick, have different colours, or may be itchy, atrophic).
Scar revision is performed under local or general anaesthesia, depending on the amount of reconstruction required. This may include simple scar removal and stitching, various types of subcutaneous transposition, stretching of the skin, a multi-stage operation and a serial excision.
Further treatment is performed on an outpatient basis, with bandages and stitches removed. Rehabilitation is carried out under the supervision of a physiotherapist.
Questions & Answers
Yes, it is possible, if the total volume of each surgery is not exceedingly large and the total surgery time fits within 5-6-hour limit. Most often breast and stomach correction surgeries are performed simultaneously ("mommy makeover"), as well as breast and upper eyelid correction surgeries.
We care about our clients; therefore, we provide an option to sign a payment contract that stipulates a 60% payment of total surgery costs before surgery and payment of remaining 40% without any additional interest within the next three months. In this case the client must provide a statement from an employer or SRS that contains information about the official place of employment.
You can book an appointment by calling (+371) 20385822, sending an e-mail to info@aesthetica.lv or by filling the form below.
Specialists who provide service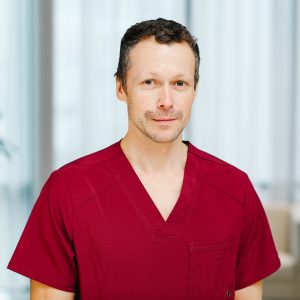 Plastic surgeon, microsurgeon
Apply for a visit
Information to be provided at the time of collection of data of the data subject
Controller – Aesthetica SIA, registration No. 40203026926, Riga, Tālivalža iela 15, LV-1006
Purpose of data processing – processing of the appointment with the doctor
Personal data categories to be processed – name, surname, e-mail, contact phone
Legal basis of data processing – this application and Article 6 (b) and (f) of the GDPR.
Categories of personal data recipients – accordingly authorised employees of Aesthetica SIA
Aesthetica SIA has assigned the data protection offices, with whom you can contact datuspecialists@aesthetica.lv
You can find out about how we process your personal data in more detail in our privacy policy, which is published here Privacy Policy, or by writing to us to the e-mail datuspecialists@aesthetica.lv