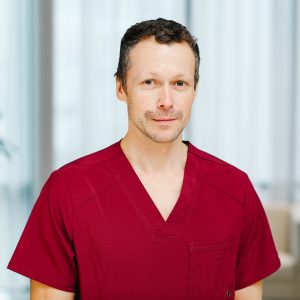 Dr. Arguts Keirāns
Plastic surgeon, microsurgeon
Dr. Arguts Keirāns is a certified plastic surgeon with many years of experience in surgery. He specializes in the aesthetic (cosmetic), reconstructive surgery and hand surgery.
Dr. Keirāns has acquired his academic and practical Experience by learning and practical training in the best clinics of Latvia, United Kingdom, Germany and Russia.
He regularly improves his professional knowledge by visiting practical trainings, courses and seminars lead by the leading plastic surgeons of the world in United Kingdom, Belgium, Netherlands and Russia.
Dr. Keirāns is a member of the Association of plastic surgeons of Latvia as well as International Confederation of Plastic and Reconstructive Aesthetic Surgery – IPRAS.
Apply for a visit
Information to be provided at the time of collection of data of the data subject
Controller – Aesthetica SIA, registration No. 40203026926, Riga, Tālivalža iela 15, LV-1006
Purpose of data processing – processing of the appointment with the doctor
Personal data categories to be processed – name, surname, e-mail, contact phone
Legal basis of data processing – this application and Article 6 (b) and (f) of the GDPR.
Categories of personal data recipients – accordingly authorised employees of Aesthetica SIA
Aesthetica SIA has assigned the data protection offices, with whom you can contact datuspecialists@aesthetica.lv
You can find out about how we process your personal data in more detail in our privacy policy, which is published here Privacy Policy, or by writing to us to the e-mail datuspecialists@aesthetica.lv