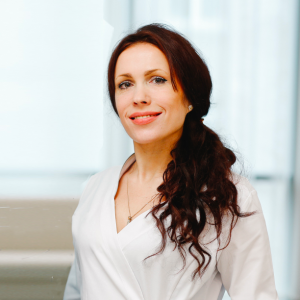 Katrīna Barinova
Beautician, nutrition specialist
Certified beautician with higher education in medicine:
– Member of Association of cosmeticians and cosmetologists of Latvia (LKKA);
– Member of Association of Dietologists and nutrition experts of Latvia;
Visits various seminars, exhibitions and scientific conferences in Latvia an abroad to study theoretical knowledge and acquire practical skills in cosmetology and nutrition science.
Qualification
2008 – 2019, eleven years of experience in private cosmetologist's practice;
Has received a diploma in "Orthomolecular cosmetology" from RSU;
Since 2016 teaches cosmetology and nutrition science in "Beauty School" secondary school;
Has received a Master's degree in Nutrition science from Riga Stradins University;
A certified cosmetologist since 2012;
Has received an international CIDESCO diploma from cosmetics school;
Has received a Bachelor's degree in Nursing from Riga Stradins University;
Has received a MasterClass diploma in facial care;
Received a degree in Business and management from Riga Technical University;
Provides consultations, develops individual skin care programmes for treatment both in a clinical environment and at home. Performs procedures on facial skin purification, various peeling procedures (AHA, BHA, retinol, aroma, cryo), anti-age procedures, whitening, moisturising and SPA procedures.
Performs injection procedures for face restoration – mesotherapy, biorevitalization.
Performs face massages: classic, lymphatic drainage, honey.
Performs body and face waxing.
Consults and provides -
Apply for a visit
Information to be provided at the time of collection of data of the data subject
Controller – Aesthetica SIA, registration No. 40203026926, Riga, Tālivalža iela 15, LV-1006
Purpose of data processing – processing of the appointment with the doctor
Personal data categories to be processed – name, surname, e-mail, contact phone
Legal basis of data processing – this application and Article 6 (b) and (f) of the GDPR.
Categories of personal data recipients – accordingly authorised employees of Aesthetica SIA
Aesthetica SIA has assigned the data protection offices, with whom you can contact datuspecialists@aesthetica.lv
You can find out about how we process your personal data in more detail in our privacy policy, which is published here Privacy Policy, or by writing to us to the e-mail datuspecialists@aesthetica.lv